Auto 4*4 accessories eboard retractable power side steps with LED light optional for Mercedes Benz GLS
What is electric running board (E-board)?
Smart electric pedal is a high-end automatic retractable pedal suitable for mid-to-high-end SUV models. It has five intelligent systems such as "smart door sensing system", "intelligent obstacle detection system", and "manual automatic control system". Intelligent new products are designed to provide car owners and passengers with the most practical, comfortable, intelligent and safe VIP-level exclusive enjoyment at the top of the pyramid.
Product Parameters:
| | | | |
| --- | --- | --- | --- |
| Type: | Auto Body Parts | Product Name: | Electric running board (E-board) |
| Car Model: | Mercedes Benz GLS | Year: | 2016+ |
| Color: | Black, Silver | Weight: | 38kg - 40kg |
| Material: | Aluminum Alloy, PP Plastic, ABS | Style: | with / without LED light (optional) |
| Executive Standard: | Q/FBJQ01/-2012 | Working Voltage: | DC12±1V |
| Motor Power: | 40W | Rated Load: | 300kg |
| Response Time: | 2S | Working Cycle: | ≥40000 |
| Working Temperature: | -35℃ ~ +80℃ | Motor Failure Rate: | <3% |
| Package Size: | 202*36*25.5cm | Warranty: | 2 years |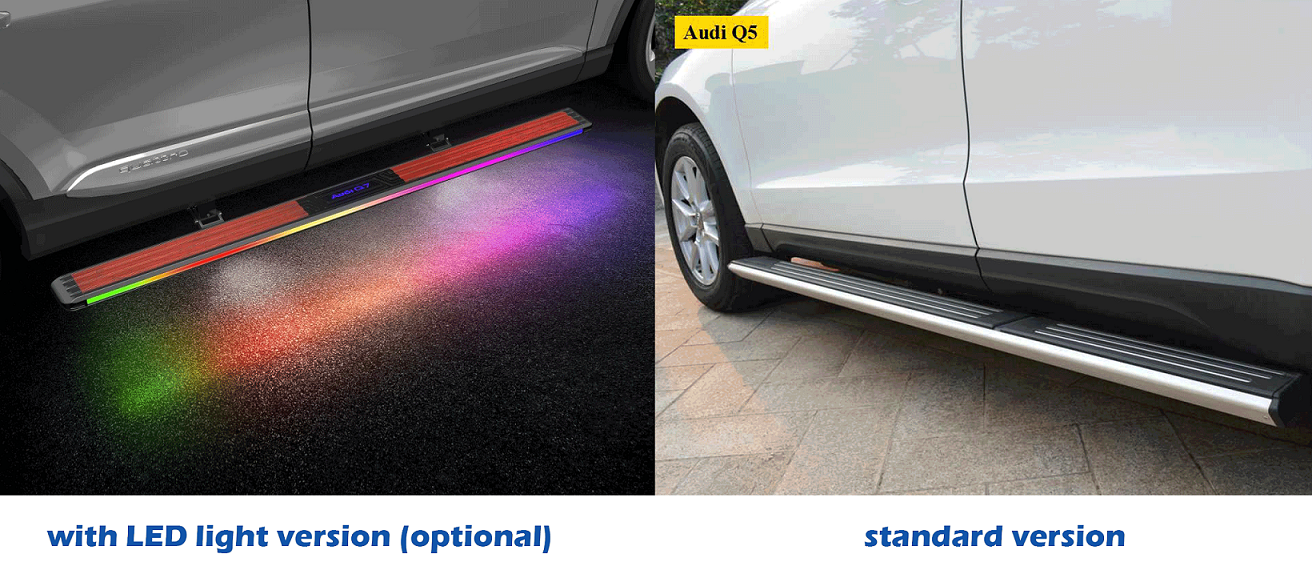 Design Concept:
1. In order to facilitate users to get on and off the bus, especially for women and children;
2. After installing electric pedals, the overall model can be more beautiful and coordinated;
3. Compared with the fixed pedal, it will not reduce the passability of the car body.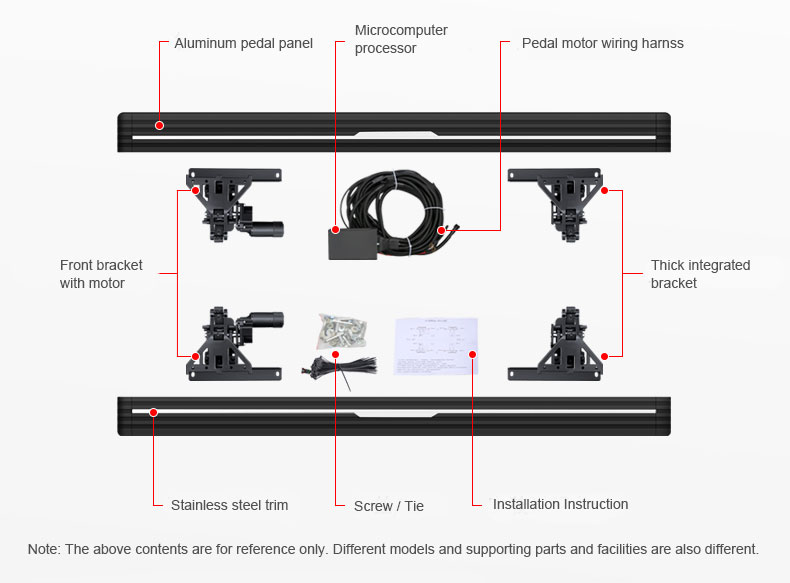 Pedal profile of smart electric pedal:
1. End Design
The beautiful arc design makes the pedals more closely to the body and the appearance is more beautiful
2. Reinforcement Screw
Alloy die-casting reinforced nuts are safer and stronger. Adopting advanced 4-row inner card nut reinforcement design technology, which effectively guarantees the uniform force of the entire pedal, and the powerful inner card screw fixation makes the pedal never loose.
3. Thickened End
The end of the pedal is made of high-quality ABS engineering materials, which are resistant to cold, high temperature, and impact resistance. Avoid unnecessary scratches on the body and effectively protect safety.
4. Aviation Aluminum
The pedal is made of thick high-quality anti-alumina material, with die-cast aluminum bracket. Strong structure, high-strength aviation aluminum frame. The unilateral load-bearing capacity is as high as 300kg, so there is no need to worry about the load-bearing problem.

Intelligent electric pedal function configuration
System Specifiction
Function
Door Control System
When the door is opened, the pedal will automatically extend.
When the door is closeed, the pedal will automatically retract.
Smart Key Control System
When the remote control key unlocks, the pedal will automatically extend.
When the remote control key is locked, the pedal will automatically retract.
Smart Button Detection System
When encountering obstacles when retracting, the pedal will automatically stop retracting.
When encountering obstacles when extending, the pedal will automatically stop extending.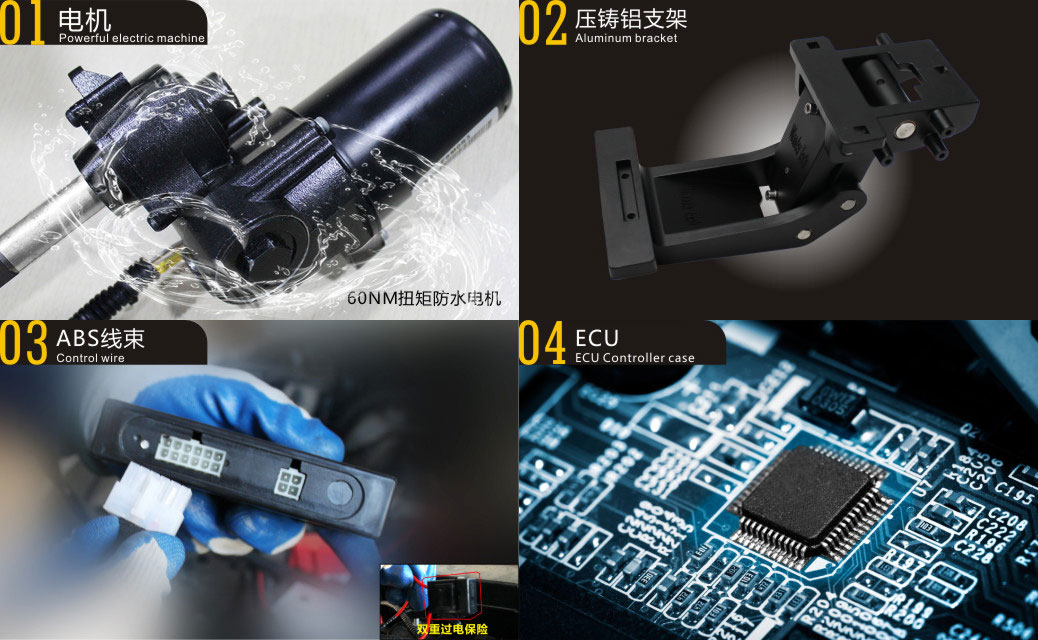 1. Motor
60NM torque imported waterproof copper core motor. Stable, precise, super quiet and fast response. No fear of flying sand or rocks, rain and snow.
2. Bracket
High-strength die-cast aluminum bracket, super load-bearing capacity. Up to 300kg, solid and durable.
3. OBD
Insert OBD on the original car. Quick response, non-destructive installation. It does not damage the original car line, which is safer and faster.
4. ECU
Independent intelligent control system, non-destructive installation, does not affect the original car structure. HALL sensor, speed ECU, flexible response, make the operation more stable.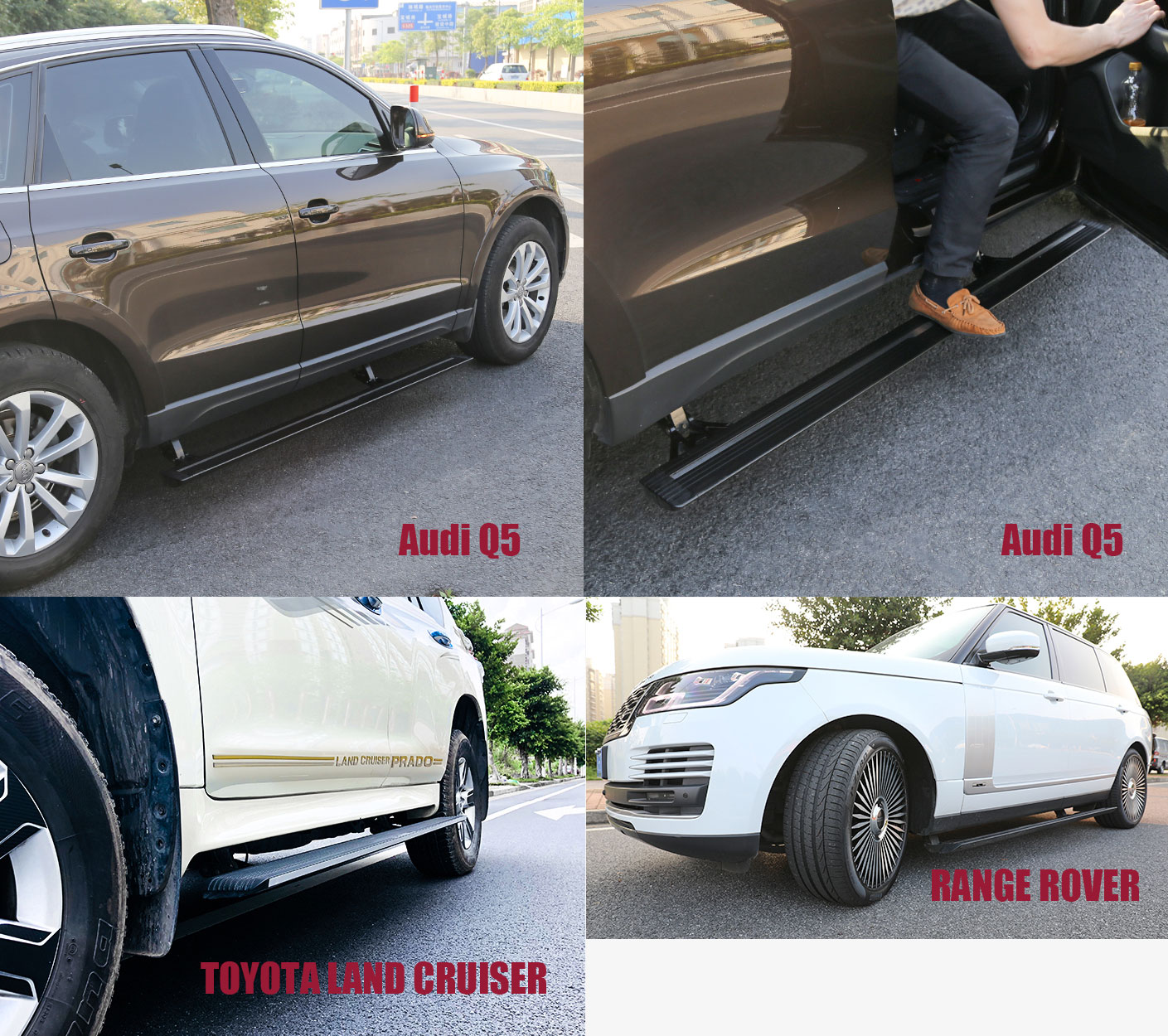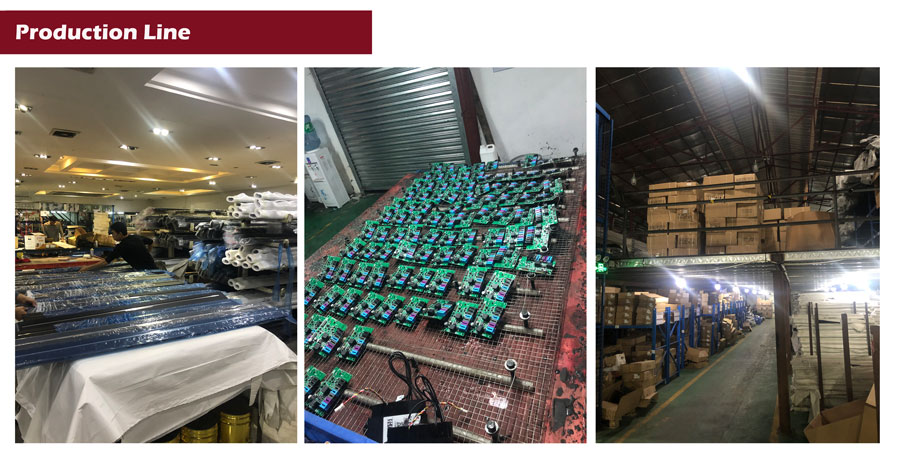 Packaging & Shipping Details:
Single Package Size:
202*36*25.5cm
1.82*36*25.5cm
Gross Weight:
38-40kg
Package Type:
Neutral Packing
Delivery Time:
In stock: 1-2 working days
Out of stock: 5-7 working days
FAQ:
Q: Does it need to be stripped wire during installation?
A: For most models, they are directly plugged into the OBD socket. For some models, it needs to be transmitted in other signals (CAN), because the OBD wire has no signal. But you don't need to strip the wire, just use our clip to connect the wire.

Q: After installation, the pedal does not work. What is the problem and how to do?
A:The power cord is not connected properly. The plug of ECU or OBD are not connected properly or the signal wires are connected incorrectly. Check whether all wiring harness plugs are plugged in correctly, and whether the power cable signal wires are reversed or connected in the wrong place. Pls see the installation manual.

Q: How many kilograms can the pedal bear?
A: 300kg.

Q: After installing the pedal, the gap is not the same as before installation, how to solve it?
A: First check whether the front and rear brackets are on the same level. Or use the U-shaped gasket to adjust the balance of the front and rear brackets. If you have any questions, you can contact our after-sales staff directly.

Q: During the warranty period, can I replace the parts?
A: If the parts are broken during the warranty period, we can replace the new one for you. But you need to send the broken one for us and bear international freight.

Q: There are steps in the parking place. If the door is opened, will the pedal not be blocked? Is it easy to break?
A: The pedal will not come out because our pedal has anti-collision function. The pedal will stop working when it his an obstacle. It is not effect on the life of our pedals.

Q: Does the electric pedal of all models support the installation of front wheel fenders?
A: The electric pedals of all our models will reserve a certain position to install the fenders.

Q: How do you maintain a long-term and good relationship with us?
A: We adhere to good quality and competitive price to ensure the benefit of our customers. We regard each cutomer as our friend. We do business in good faith sincerely, make friends with customers, no matter where they come from. We always insist on helping our customers to sell products and grow together with us.