Car Door Soft Close / Electric Suction Door
What is car door soft close ( electric suction door)?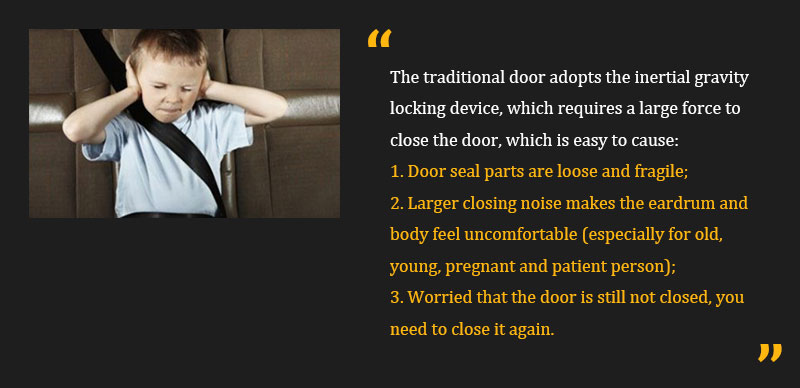 It is a safe and comfortable intelligent body control device for the car door lock system. When the door touches the body, the door will gently pull in automatically, and the door lock system will automatically tighten and half lock position to the full lock position. The car owner can easily close the door and no longer have to worry about the door not closing. It is safe and has a very intelligent, elegant and comfortable experience.
Advantages of car door soft close lock:
| | |
| --- | --- |
| Advantages | Description |
| Intelligent | Push the door to the semi-lock state, the system will automatically complete the remaining door closing action. |
| Safety | 6-9mm – Automatic suction and lock the door. The closing process will not be easily blocked, and the door can be safety closed. |
| Comfortable | Gently close the door. Increased comfort and no noise. |
| Elegant | Smoothly close the door to make the door movement more elegant. |
| Honorable | High-end configuration of luxury cars, get a premium car experience |
5 Major advantages of car door soft close 2.0:
| | |
| --- | --- |
| Function | Description |
| Second Generation Intelligent Suction | The electric suction has a foreign matter extraction buffering time during the suction from the first stage to the second stage. And the visual performance will pause for 0.5 seconds during the suction process. |
| Suction Emergency Opening | The door can be opened by pulling the door handle at any position during the suction process. |
| Motor Active Protection | If the single door is closed for 30 times in any five-minute period, the motor will be actively shut down. The door needs to remain closed for one minute to restore the suction function. |
| Secondary Unlock Protection | When the outer door handle is opened for more than 4 seconds at any time, the electric suction mechanism automatically realizes the second unlocking (repeating the reverse rotation between the transmission gears. |
| Exclusive Patented Technology | SA Driving Clutch – patented. |
Product Structure: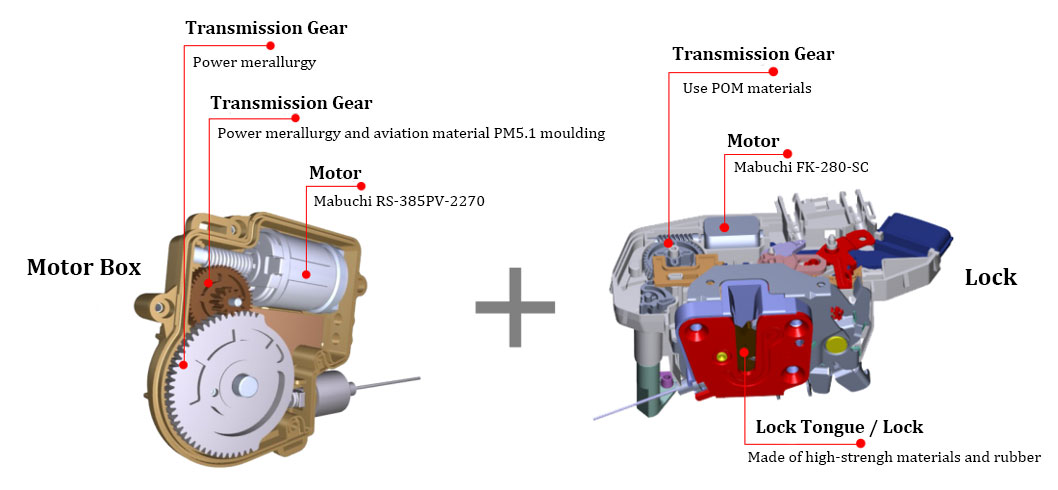 Core Components and Parameters:
| | | | |
| --- | --- | --- | --- |
| Component | Specifications / Parameters | Component | Specifications / Parameters |
| Motor | MABUCHI FK-280-5C | Operating Voltage | DC 12V (9-16V) |
| Detection Sensing | HALL MT1101 | Stand-by Current | ≤ 3.0 mA |
| Detection Switch | MARQUART / ALPS-SPVQ810801 | Working Current | ≤ 6.0 A |
| MCU Main Chip | STC8A8K64S4A12 | Blocking Current | ≤ 8.0 A (MAX) |
| Driver IC | DRV8701 | Pick-up Noise | < 60dB (A) |
| Transmission Gear | Power metallurgy / Aviation material PM 5.1 | Suction Force | Semi-Lock: 70-170 N, Full-Lock: 150-250 N |
| Lock Tongue / Lock | No. 45 ladle glue | Temperature / Humidity Range | -40℃/0% - +85℃/90%RH |
| Load Strength | Portrait: 11000N, Landscape: 9000N | Product Life | ≥ 50000 times |